Being a safe and confident bicycle rider isn't just about wearing a helmet.
Helmets are a crucial "last line of defense" but wearing a helmet is passive (it doesn't make a motorist less likely to hit you). We believe it's equally important that children understand road safety, basic traffic law, and defensive bike handling so that they can travel and share the roads with knowledge and confidence. We're committed to providing safe and fun opportunities for riders of all ages and abilities to practice, advance their skills, ride with friends and learn to navigate their communities.
In addition to the program offerings below, we are happy to create a custom event or program for your school, scout troop, organization, neighborhood, etc. We even do Bike Birthday Parties! As certified League Cycling Instructors, we have the professional training, resources and materials to plan and execute a variety of bike safety-related events for groups of children and adults.
SMALL GROUP LEARN TO RIDE
After teaching more than 1500 children how to ride a bike safely and confidently, we can say with certainty, peer interaction is a great motivator! We feel that many children, even and especially those with anxiety and apprehension about riding, perform and learn better in a small group setting rather than one-on-one. That's why we're delighted to offer small group Learn to Ride programs year-round- the best of both worlds- lots of individualized instruction with the affordability and peer motivation of a group class.
View Group Programs Open for registration HERE – select "Learn to Ride" under +More Filters/ Activities in the registration calendar.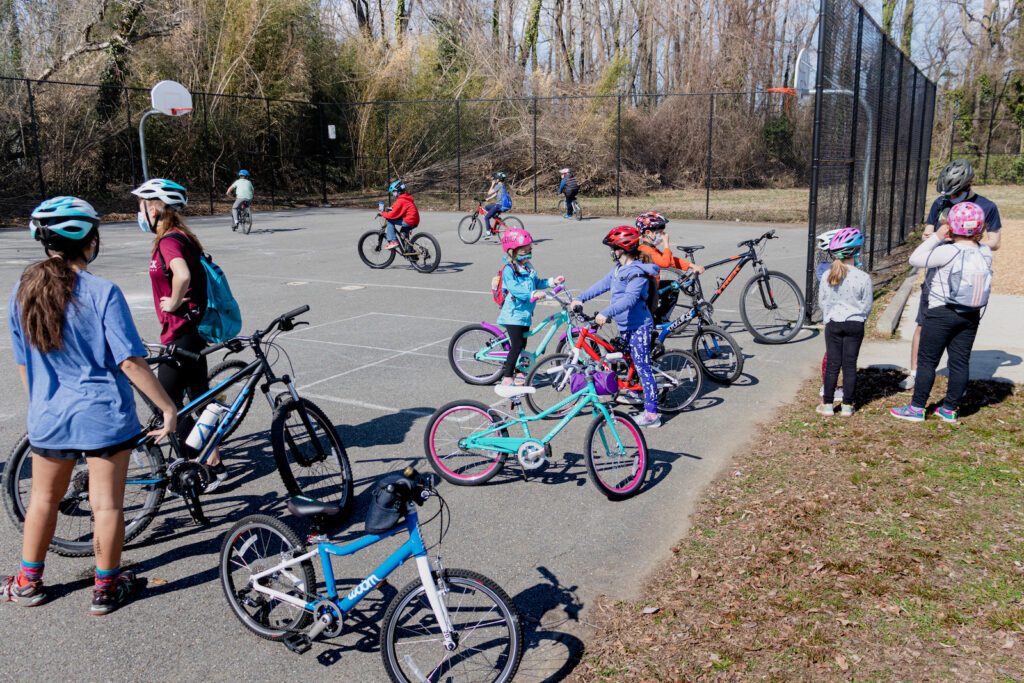 Our Bike Clubs are for developing riders who are ready to improve their skills and endurance through group rides in and around local trails and parks. Often, there is ice cream involved! Typically meeting weekly, we have weekday and weekend options- Bike Club was created because many of our students just wanted to keep riding with us! Bike Club members are typically ages 5-12 and must be able to ride proficiently without training wheels.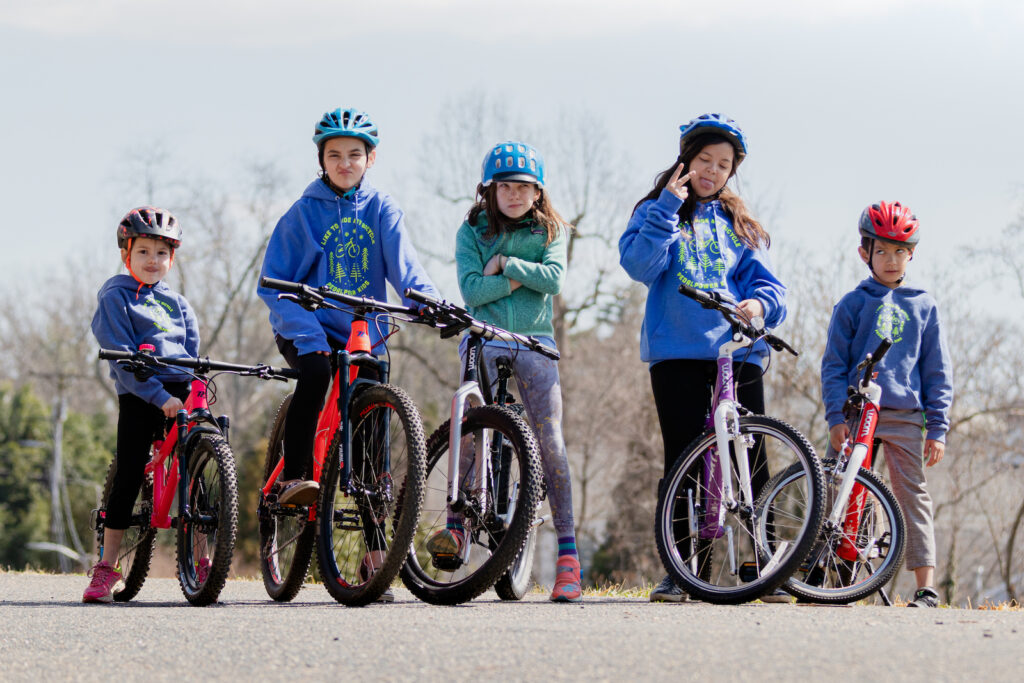 Our Learn to Ride summer camps offer a fun and encouraging environment to ditch the training wheels and ride with confidence! Many campers begin the week reluctant, scared and resistant- and often by the end of the second day of camp, all campers are riding independently! There's something to be said about the positive peer pressure of a group setting. In addition to learning to ride independently using our signature "glide" method, campers learn to turn, start & stop, modulate speed, ride in a group and much more. In partnership with local recreation agencies, camps are offered at parks and recreation centers and include a variety of fun elements on and off the bike- from crafts to games to learning about healthy food choices and visiting with local seniors. The week ends with a bike parade for parents and friends, and a new batch of lifelong riders!
Many of our Learn to Ride campers return to PedalPower Kids for our Adventure Camps. Making use of area parks and rail trails, these half day programs introduce campers to longer touring rides and improve bike handling and group riding skills. There's always a few ice cream and snowball rides as well! By week's end, campers are riding up to 15 miles.
To be the first to know about upcoming programs and camps and register early (we sell out each year!), sign up below to receive our newsletters.
A Bike Rodeo is an awesome way to teach bike handling and safety skills to a large group of children of all ages. We can work with schools, scouts, churches, parents' groups and more to design an engaging, educational and fun event for your organization.
We bring all of the equipment, set up the stations and course, and will provide organizational tools/sign up sheets for planning. You provide the parking lot and the riders!
Recent Bike Rodeo events include City of Annapolis Bike Day, Annapolis Mothers of Multiples Bike Rodeo & Learn to Ride, Lifeline100 Kids Bike Rodeo and Chesapeake Montessori School Spring Fair. Contact us for more information.
PedalPower Kids can deliver powerful education content for bicycle safety at your school in a format that meets your time needs and goals. From PE Class presentations to after-school programs, we are prepared to engage your students with critical safety information to enhance existing bike to school students and encourage and inspire new ones. We also offer After-school Programs for developing riders, similar to our Bike Clubs, where we do weekly fun rides that incorporate skill development and navigation.
CHECK US OUT IN ACTION ON INSTAGRAM